By Dan Phillips
It was the summer of 2011 that I drove through San Antonio streets doing what I do pretty much every day as a private investigator. At some point I started to notice very large Clear Channel Communication billboards that had pictures of two Yorkshire Terriers. The sign's read, "2 Yorkie's Stolen April 22nd 2011, $4000 Reward".  Each sign had a phone number that would become a hotline for many months to come. One evening I called the number and talked to Peggy Riley the grieving owner or in more descriptive words "grieving mother".  Many of you that don't know me might be thinking I was reaching out for reward money or trying to take advantage of Peggy. Forget that thought. I offered to help and have never received a dime from Peggy as she had at this point drained her savings and borrowed money from her sister to keep the billboards up. In fact when the reward eventually went up to $9,000, I was the guarantor of the final $1,000 just because I thought $10,000 sounded better than $9,000!

Soon after our conversation that night, I met with Peggy and went over all of the details of what leads she had and began trying to piece together where these two tiny needles were hiding in a very large Texas haystack.

Peggy had already advertised on 23 billboards in San Antonio and surrounding suburbs. She had been on local television stations getting her message out about her stolen babies. She had begun an advertising campaign on Facebook that eventually had thousands around the world friending her then checking in daily to see if they had been found. Fortunately she had help with the Facebook traffic from a total stranger Linda Van Ness. There were many like Linda who kept up with leads from all over the country and reported via Facebook their leads.

Kept secret from everyone was the fact that Peggy had had both Baxter and Cooper micro chipped in case they were ever lost. Each chip is given a unique number and if found they can be taken to a local clinic where a scanner is placed over the animal and produces the number and therefore proof they are or are not the missing animal. She had followed up with her own leads prior to my calling her by going to stake out seedy apartment complex's on her own and even worked with gang members who were sympathetic to her situation. Still no solid leads had come in on the hotline.

I was convinced that the thieves were young and since another house had been burglarized in her neighborhood I knew that she was picked randomly. I was always convinced that the road to recovery would be through a tip. One very solid lead early on came from a neighbor who lived behind Peggy's house. Caught on a surveillance camera in their home was a white Mazda CX-9 that passed 3 times during the approximate time frame of the burglary. The vehicle never stopped. This vehicle intrigued me to the point that it became the focus of my efforts at the very beginning. The camera of course didn't get a plate number but did yield enough features that I was able to narrow it down to model years 2006 through 2010! I was able to run from my own database all of the Mazda CX-9's but the database could not discern colors. Therefore, once I had the entire spreadsheet of all of the Mazda's, we had to get outside help to pull all of the white ones. Once done, we were left with over 150 white Mazda CX-9's. I then began with each residence and started running criminal history searches on each and every family member. This was a huge task but I felt necessary since I assumed that the burglars probably had criminal histories. If you're wondering why police hadn't matched fingerprints from the scene to a known felon is because no fingerprints could be lifted from Peggy's house after the burglary.

After running the criminal histories I then started driving to each address to see what I could find. I wanted to see if the house itself yielded clues. This went on for months. Meanwhile, I was constantly running the plates back through DMV to update the information to see if the vehicle was sold and if it yielded a new address. It was a lot like wondering around in a dark home after the lights go out but hoping to bump into something that would produce a lead of some sort.

One very good lead came from someone who thought it strange that her friend had suddenly taken into their home an older Yorkie. That in itself was not unusual but the person called the male Yorkie "Cooper". Subsequent surveillance found this pup to not be the missing Cooper. I was somewhat relieved because this Cooper was alone and I kept hope that BOTH would be found together.  Another lead that appeared to be very good came from a Good Samaritan who purchased both Baxter and Cooper quite by accident and not told that they were stolen. The person even sent pictures that looked so close to Baxter and Cooper that Peggy could not even tell if it was them or not. All that the person wanted was $1,000 to ship them back to Peggy. This "lead" turned out to be a scam. It soon became apparent that even the lowest of society had heard of Baxter and Cooper.

The scams were constant as were threats to Peggy's life. The threats were always veiled in class warfare. "How dare you love your dogs? You must be rich. (Furthest from the truth) You deserve your plight and punishment". Others simply called and said "you deserve to die".

Towards the end of 2011 and into 2012 Peggy had continued to follow up on the dwindling leads. She sent me pictures of white Mazda CX-9's she saw in the various locations around town so that I could check the registration. Peggy had long since gone "underground" with her pursuits as her family and close friends wanted Peggy to move on and Peggy had finally convinced each she had. However, Peggy never stopped and never gave up hope of being reunited with her beloved pups. She didn't however venture out socially as she had before. Her life was totally committed to finding her babies and I was the only one she knew she could call and or discuss leads with.

FINAL LEAD

Friday October 12, 2012 Peggy got a phone call on the hotline. The person blocked their number so that it showed only "unknown" on her caller I.D. The person said, "Are you the person that has the two missing Yorkies"? Peggy responded "yes". "Listen, your dogs are located in a trailer park near a convenience store in Poteet, Texas. I don't want any of your reward money". They hung up.
Peggy called me and relayed the information. I didn't let on to Peggy but when she called me with this information I knew that this was the lead we had waited for. The only problem I faced was trying to find a trailer park near a convenience store in a relatively small town and then find the trailer. It was a long shot but I had this feeling that this was going to be the lead. The final lead! The needles were still the size of needles but the haystack had become much smaller!

After running database searches I was able to eventually focus on one trailer park in Poteet. Poteet is located about 30 minutes south of San Antonio. It's known for its strawberries and each year has a very large event called the Poteet Strawberry Festival which draws many people from all over Texas. It's an event ironically that Peggy attended in the past but not in recent years.

As I began my search I did so by putting together pieces of a puzzle based solely on assumptions. It's what every investigator must do until they rule out or in the assumption they made. After conducting surveillance on the entire park for many hours I had seen only one sickly looking dog roaming free in the back of the park.  Having run a lot of searches on the occupants of the park and trying to narrow down my focus to a particular trailer I started to feel like Jimmy Stewart in the Hitchcock movie "Rear Window". In that movie Jimmy Stewart who is recovering from a home confining injury starts watching the apartment complex behind his own. He becomes intimate with and each family and their day to day lives vicariously. It is what I have done for 33 years and what gave me the insight to focus on one trailer.

It didn't have a fence or even a small pen outside and Peggy had told me that if they were ever let out they might actually run. I thought it not the best habitat for Baxter and Cooper but still focused on this one particular trailer. I thought possibly they might be taken out on a leash at least. Though I remained confident someone might take them out for a pee break it never happened. What were they doing? Leaving them inside to pee and poop and then clean up?

I watched the occupants of the trailer come out of the trailer. They left traveling toward San Antonio. I followed a short distance and far enough to make sure that they were not in fact coming right back. In the investigations business things can go badly from zero to sixty if your calculated risks aren't done with great calculations. Problem is I was terrible at Calculus. But I still have the instincts and I knew what to do next.

I drove back to the trailer park. I parked next to the trailer. I turned the engine off and listened. I then walked to the door and knocked. I listened and heard nothing. I then knocked with a little more force. I listened and again heard nothing. I then took my open hand and slapped it against the wall of the trailer. Finally, I heard one then two distinct barks of older terriers. One of them even scratched at the door. Chills shot up my back. Baxter and Cooper were two feet away from me! I knew in my heart they were there! I was completely pulled like a magnet as I walked to my vehicle and left. My head was spinning.

There was still plenty of daylight left and I had to think things through.  Peggy was at a family function. I knew I couldn't call her but I could text her. I was very careful not to get her hopes up but I relayed what I had found. She later said she never let her heart get in the way of what was happening. She would not let herself believe it was them. I drove all the way to 1604 about 10 miles away and turned around. I then drove all the way back to the trailer. I was going to try the door and see if it was left opened. Then logic got the best of me. I drove home. I was on cloud nine. I was also thinking of what lay ahead. I knew a plan had to be smart and thought through. Later that evening, Peggy and I began to put our plan together as to how to legally get them back in her safe arms. Peggy never thought what I thought at this point. She thought it viable but never thought this could be close to the end of her worst nightmare. She would not let herself believe it was actually them.

Peggy had to call her sister and confess to her that she was involved in a lead that was looking very good.  Penny, Peggy's sister has many connections with the DA's office and eventually Peggy had to go through the proper channels to make sure that she was not circumventing the legal avenues. Eventually, we were given permission to contact the Atascosa County Sheriff's office.
On Friday, October 19, 2012 I drove to the trailer park and began monitoring the activity at the trailer during the early morning hours.  Peggy and Penny eventually joined me. We parked across the highway and a fair distance away but could still see the door of the trailer and all activity going on. Peggy had arranged for two detectives from Atascosa County Sheriff's office to meet us and possibly approach the trailer. Eventually Sgt. Wayne Stratton and Sgt. Max Peralta joined us armed with a scanner from a local vet clinic. We showed them the trailer and Sgt. Stratton said to Peggy, "there will not be an arrest today". Peggy's heart sunk. "I won't get them back today?" Sgt. Stratton said "no if the scanner matches the numbers then you will get them today. We just have to wait on an arrest because of the agency issue". Peggy at this point had a huge sigh of relief. She then looked at the inspection sticker on the detective's vehicle and noticed the expiration date. It was to expire 12/12. She said, "Sgt. Stratton, I hope this is a good sign. My babies were born on December 12!"

The detectives left and we watched them drive to the trailer. We watched them knock but got no answer. Though we knew there were people there. Then eventually they were invited inside. I looked a Peggy and Penny and they were very calm but a bit on edge. As the minutes passed I noted that at least 5 minutes had passed that the detectives had been inside. I said that if the dogs had been of some other breed they would have already been out of the trailer by now. Then Detective Stratton came out trying to make a phone call on his cell phone. Peggy's phone rang.

Peggy answered the phone still calm. She said as if answering a question "I have the numbers here……they are….. Then at this point Peggy lost control of emotion. She for the first time in 18 months realized that this might be the end of her nightmare and the possible moment that she dreamed of, worked for and longed for. She passed the phone to Penny, who was also very much overcome with emotion but able to read off the numbers from the chip identifiers. There was a long pause then Sgt. Stratton said "come and get them, they are yours".

RECOVERY COMPLETE

I remember that Peggy nearly fainted and Penny nearly ran into me as we both raced toward the trailer that held the two little knuckle heads that had no idea what had gone on outside their little world for the last year, 5 months and 27 days. They had no idea why someone kicked in the glass door that shattered just feet from their safe confines that Good Friday April 22nd of 2011. They never knew what had happened to their momma that they had lived with for 10 years. They just knew that someone swooped in and took them from their very wonderful life they knew for 10 years. The very safe life they knew for 10 years. They were litter mates raised together by a mom that loved them like human babies.

And in about two minutes, they were about to be reunited. Make that one minute. Penny was driving and I was just behind them as we pulled up to the trailer where Baxter and Cooper waited.  Peggy opened the passenger door and leapt from the door. I didn't even turn my car off. I turned my video camera on. I knew that this was going to be worthy of documentation. I followed Peggy into the trailer. There was an adult female who held the two pups, Baxter and Cooper. A child was at her side and quite taken by all of the activity. The lady that held the pups was in tears. There was another female who was also a bit teary eyed.  Peggy was in shock. She knew her journey over but not sure how to make the next few steps of closure. I pushed at her back and said quietly "get them….get them". She went to Baxter and took him just as Penny was taking Cooper and then the rush of emotion took over the whole room. I saw Peggy hold Baxter and sit on the couch and just hold and sway with eyes closed. It was so personal at this point.

The detectives took pictures and Sgt. Stratton had me video tape him re-scanning each pup to further document that they were in fact Baxter and Cooper. I saw Penny hold Cooper and calling her mom and letting her know that they had in their arms Baxter and Cooper. I noticed how long it took to convince her! Peggy and Penny's mom couldn't believe it.

Penny hugged my neck with Cooper in her arms a rush of emotion ran through me. Finally! It's over! We moved next door and took pictures. See below. This is at the convenience store where just next door Baxter and Cooper spent the last 18 months of their lives. This was an amazing end to a story of so many twists and turns. It was the happiest result of any case I have worked in my 33 years of investigations.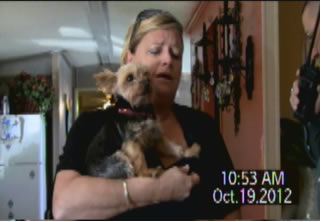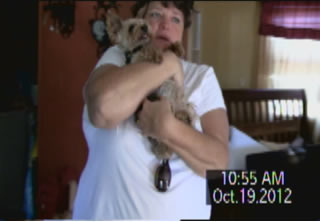 Top: Peggy with Baxter and below Penny with Cooper moments after rescue.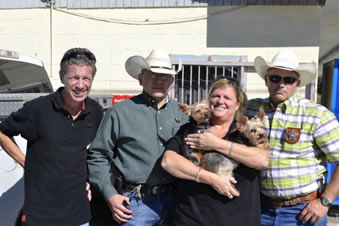 Me, Sgt. Max Peralta, Peggy and her babies, Sgt.Wayne Stratton.
Wrap Up
If you need to find a missing person (or dog), need surveillance done, need a background check or any other matter that needs to be kept confidential please call Mission Investigations. We treat every case like someone's life depends on it.